by SimpleVancouver
Car-free hiking destinations near Vancouver
---
Transit-accessible hiking destinations.
---
Car-free hiking destinations.
---
Where to hike in or near Vancouver if you have no access to a car?
---
Owning a car in Vancouver may come off as a luxury, with the gas and minimum insurance prices. Personally, I prefer owning a personal vehicle (right now I commute on a motorcycle), to avoid the stress from using public transit at most times; but my girlfriend, despite my offer to buy her a motorcycle or a scooter, chooses to use TransLink.
Luckily, TransLink's area of service covers a lot of suburban locations, that are pleasant getaway from the everyday life. The ones that came to mind are listed below, and grouped by the general proximity to one another.
(Visit translink.ca or maps.google.ca for route planning)
1. Grouse Mountain (Bus #232, #236):
Grouse Mountain is a very popular destination for tourists and local residents. You can either take the gondola both ways, or hike up and take the gondola down. Hiking back down is not recommended, especially outside summer, as the top 1/4 of the route is very steep, and gets icy and slippery, so you are endangering yourself and others around you.
Capilano Lake + Canyon
Grouse Grind
BCMC Trail (like Grouse Grind, but with 1/3 of traffic)
2. West West Vancouver Area (Bus #250/#250A, #251, #252, #253, #254, 255, #256, #258, #259, #C12):
Horseshoe Bay area is incredible during both the warmer and colder months. Lighthouse Park and Whytecliff park are about 10 km away from each other, so you will need to take another short bus ride from one to another; although Lighthouse Park is big enough for a day stroll on its own. In addition to the exceptional views of the city and the water, there are a lot of hiking trails throughout.
If you like old buildings, visit the Point Atkinson Battery in the Lighthouse Park- it was built for defending the city during the WWII.
Lighthouse Park & trails nearby
Whytecliff Park + Point Atkinson Battery
Whyte Lake
Caulfield Park & Erwin Park
3. Deep Cove (Bus #211, #212, #C15)
Deep Cove is an excellent place to visit during the Summer, and is not a bad destination for the colder months. Be aware, that during the rainy season the trails will be more dangerous as they get more slippery.
4. Lynn Valley (Bus #228, #229):
Lynn Valley Suspension Bridge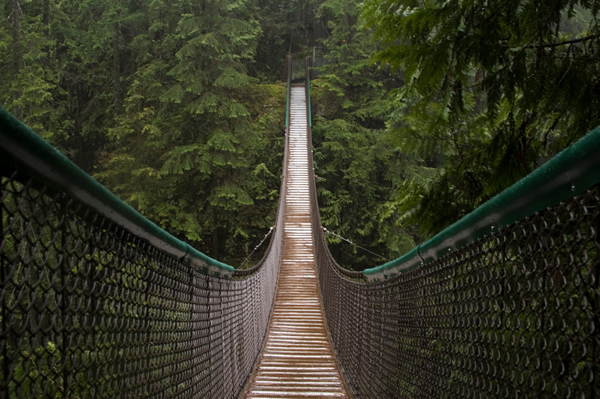 is a good alternative to Capilano Bridge: it is free to visit, and there is far less traffic. It is smaller than its rival, but the surrounding area has a lot more to offer: you can hike around the Rice Lake, cliff jump at Lynn Canyon, do the Lynn Loop or visit the Twin Falls. There are much longer trails heading North, if you feel like continuing with your journey.
Rice Lake
Lynn Valley Suspension Bridge
Cliff jumping at Lynn Canyon
Lynn Loop
5. Buntzen and Belcarra (Bus #C25, #C26):
Diez Vistas is an excellent, albeit a longer (6-7 hours) hike. Buntzen Lake also has shorter trails, if you are not a big fan of longer walks. Belcarra Park is within a walking distance from Buntzen, and there are a few trails connecting the two.
Keep in mind, that Belcarra is on the other shore right across the Deep Cove, so you may be able to make your way there on a kayak, if the water is temper.
Buntzen Lake
Sasamat Lake
Diez Vistas
Belcarra Park
6. Simon Fraser Unversity (Bus #135, #143, #144, #145)
Often underestimated, SFU (Burnaby campus) has a whole lot of hiking trails with various difficulties. There are some foot trails, and some trails that you can ride on a bicycle. Barnet Marine Park is just across the highway.
— edit Aug.28 2014 —
7. Deer Lake/Burnaby Lake (thanks, /u/ThanksThanksObama) (Bus #110, #123, #129, #144; there are a few other ways to get to Burnaby Lake, refer to TransLink/Google Maps for route planning)
Burnaby Lake and Deer Lake are a good option, if you do not feel like going to far, but still want to temporarily seclude from the city chaos.
8. Green Timbers Urban Forest (thanks, /u/ThanksThanksObama) (Bus #502)
Unfortunately, I have not seen nor heard of this park. But, hey, it is there and you can visit it anytime you feel like it (unless the access is restricted by the respective agencies).
---
Other helpful articles and pages:
http://www.car-free.ca/bc-car-free/hiking/
http://www.vancouvertrails.com/regions/?sort=&filter=transit
---
As always, if you have any suggestions or comments, I'm all ears!